Denise Richard's professional biography is long and impressive—over 95 roles in three decades working on big and small screens, including star turns in movies like Starship Troopers and Wild Thingsand on hit shows like Spin City and Two and a Half Men. She's even played a Bond girl. Currently, she's bouncing between two juicy roles, appearing on Bravo's The Real Housewives of Beverly Hills and CBS's The Bold and the Beautiful.
But then you look at her personal resume, and she's just, well, inspiring: Single mother to three beautiful girls, one of which she adopted on her own, who was diagnosed with special needs. Newlywed after finding love after divorce. And, of course, she could easily give a TED Talk on co-parenting. For the past fourteen years, she has gracefully raised her two daughters (Sam, 15 and Lola, 13) with ex-husband Charlie Sheen (even when he was, well, not exactly known for being an easy ex). At times she's even jumped in to help care for Charlie's sons, Bob and Max, with ex-wife Brooke Mueller. On top of this, she is impossibly gorgeous at 48. (Seriously, though, if you need to renew your faith in the power of motherhood, read her recent People magazine interview.) 
We were thrilled to speak to Denise, in a phone call between her busy shooting and parenting schedule, to ask her about raising teenagers, adopting as a single mom, her thoughts on co-parenting and more.
First of all, congratulations on getting married! How did you know you were ready to get married again and what was your girls' reaction?
Thanks! I knew I was ready by the man I was with—right away, it felt so right with him and I feel like he's my soul mate and it wasn't even a question. And my daughters really have a great relationship with him—they were excited.
You grew up in the Midwest. How are your kids growing up compared to your own childhood?
It's very different. My parents were still married, and I grew up in a small town outside of Illinois. My daughters' parents are divorced and in the public eye—and growing up in a day and age of social media which is different, no matter where you're growing up.
Your People magazine interview about adopting as a single mom and raising a daughter with special needs is incredibly inspiring and has touched so many people. How have you explained Eloise's particular challenges to your older two?
Sammy was seven when I adopted her, so they grew up her with her just as I did—it wasn't as if I adopted her at 7-years-old with a chromosomal disorder and delays. They would always ask me things like 'When is she going to start talking?' I explained to them what it is and tell them we don't know what the outcome is going to be. They love her so much and they don't know any different.  
What has been the best part of adopting for you?
To me it feels like I always had Eloise—there's no difference between an adopted child or biological child, or Eloise and my older daughters. I've always believed that we choose our parents and she just chose me another way. She's my daughter and she's a part of me.

So beautiful. In addition to adopting, you have been successful co-parenting for years and have become an example of putting your children first. What do you consider to be the key to a successful co-parenting relationship?
No matter what was going on with Charlie over the years, I wanted to maintain peace, and I didn't want the girls to be privy to any discord—that meant never fighting in front of them or talking negatively in front of them about their father. Even  during challenging times, I never wanted them to feel in the middle or think dad badly about their dad. Parents have to come together, even if they don't want to be in the same room, for their kids. Suck it up—because they didn't ask to be born into a family that splits and shouldn't have to deal with a parents at each other's throats. I'm not one where you bash your ex in front of your children. It's very disrespectful to the kids.
You seem to have this incredible strength. What has gotten you through tough times as a mom?
When you're a working mom you have to push you through. It's a constant struggle to make sure the kids are off to school and fed and dealing with fights my older daughters have with each other over the phone. It's like organized chaos and it's just a juggle.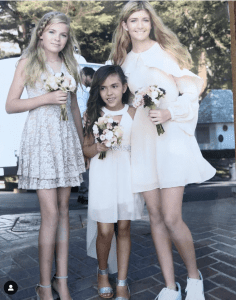 Do you have a motherhood mantra?
I'm a fairly strict parent and especially as my older girls are getting older, I'm trying to find the balance. Our oldest daughter is a freshman in high school, so [I'm] giving her freedom and keeping consequences in place and keeping her accountable, but also picking my battles. I wouldn't say I have a parenting style but I was raised with consequences and being respectful. I find some kids are entitled, and there's a little bit in my opinion too much freedom with certain things and for me that doesn't work. I want my kids to be respectable and pick up their rooms. It's so difficult to be their parent, not their friend, right now. Later I can be their friend.
That's great advice. How did you decide to do Real Housewives of Beverly Hills and what has the experience been like?
Lisa Rinna is a very good friend of mind and I am a fan of the show. She has a good time on it and I thought I'll try it and have fun with it! In the past I had a lot of stuff going on that was very public and I couldn't talk about it at the time. I wanted to be authentic [on the show] and not have parameters and now I'm in a good place to do that. I honestly love all the women and getting to know them and no matter the tiffs, these moms are all good moms and are incredibly supportive of one another.
For more interviews with celebrity moms like Emma Heming Willis, Laura Prepon and Ali Fedotowsky-Manno, head to our Profiles section!
This story originally appeared on The Local Moms Network.