Cinco de Mayo is this Friday!  Whether you are hosting an event, attending a party, or hanging out at home, here are some ideas to make the day extra festive!
Make Margaritas using 21Seeds! We love this female founded brand of Infused Tequila! Check out their website for where to buy your own bottle locally along with a bunch of fun recipes!  We made their Skinnyseed Margaritas using three simple ingredients:
2 oz 21Seeds Valencia Orange Tequila
1/2 oz Fresh Lime Juice
1/2 oz Simple Syrup
Place all ingredients into shaker with 1.5 cups of ice. Shake 30 seconds (totally underrated and makes the cocktail), pour into a glass. Garnish with a lime or orange slice.
Optional:
Rub rim of glass with lime wedge and salt the rim.
If you want to lighten it up and make it go further, add club soda.
Get some colorful flowers! We love The Flower Bar and are always impressed with Nancy's gorgeous arrangements. She put this stunning piece together for us and it brings us so much joy!  Flowers are the perfect way to set the tone for a party and make the atmosphere feel festive.  If you're attending an event or visiting a friend, they are the perfect hostess gift!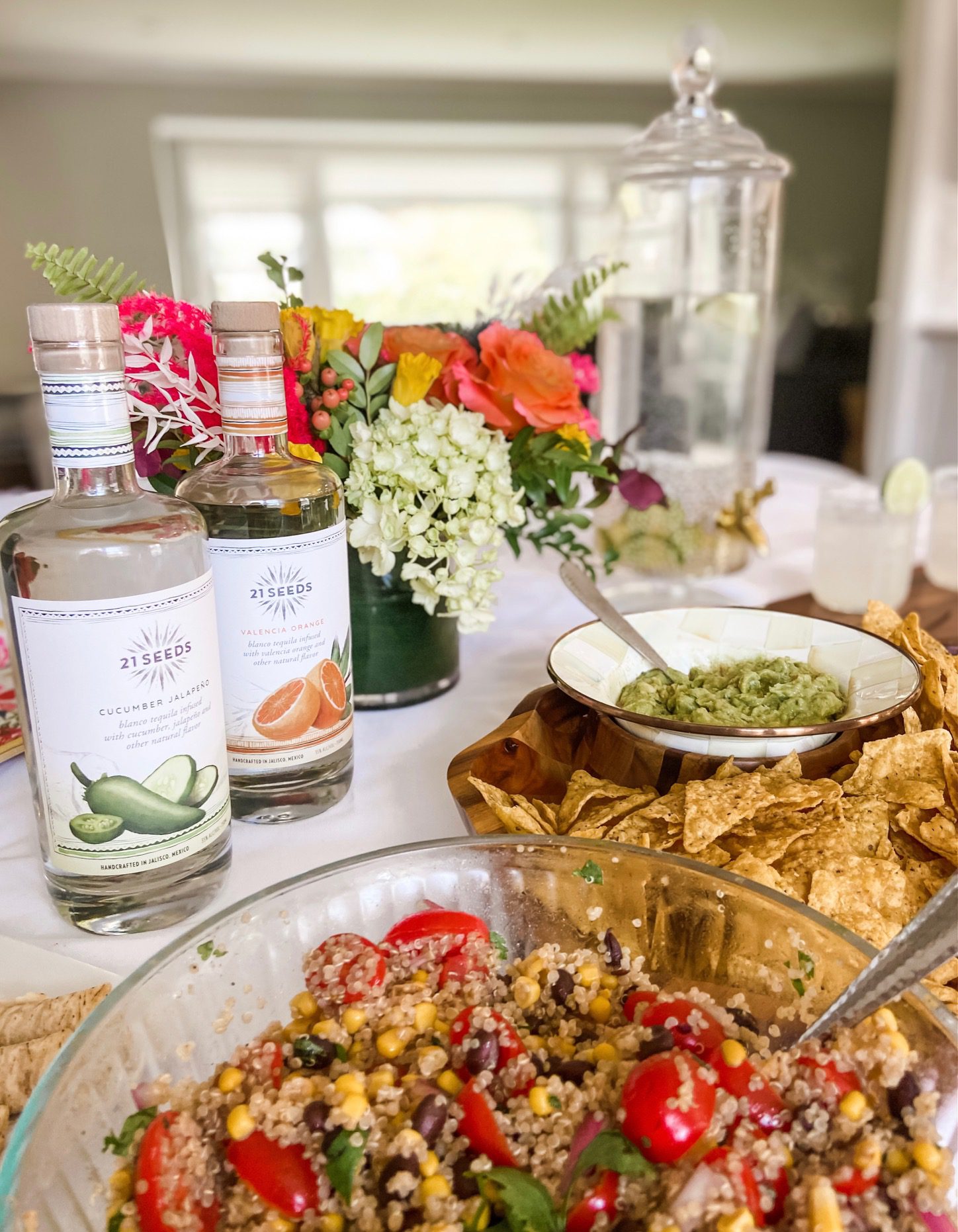 Make some festive foods!  We wanted to pair our tacos, quesadillas and guacamole with a healthy side dish.  We shopped for fresh ingredients at our local Wegmans and threw together this delicious Quinoa Salad:
2 cups

cooked, cooled quinoa 

Half of a

red onion chopped up

1 container of

grape tomatoes sliced up

1

15 oz can of black beans (rinsed and drained)

1 cup of

cilantro chopped up

1 15 oz can of corn (drained)

1/2 cup of olive oil

1/4 cup of lime juice

1/2 teaspoon of garlic powder

1/2 teaspoon of  ground cumin

1/2 teaspoon of salt

1/4 teaspoon of chili powder 

1/4 teaspoon of paprika
Combine all of the ingredients and mix!
Cheers! We hope everyone has a great time celebrating the anniversary of Mexico's victory over the French Empire at the Battle of Puebla! 
Photos by Kelly Postiglione and Whitney Spinelli. This post contains sponsored content and affiliate links.