This month's Meet a Mom is Westchester mom Colleen Turner, the CEO + Founder of Play It Forward. Colleen is on a mission to disrupt the second-hand market for children's apparel and reduce textile and garment waste. Backed with 20 years of experience in the apparel industry, she's already off to an impressive start.  Talking with Colleen was a breath of fresh air – not only is she super passionate about her business, but I instantly felt like I'd known her for years.  The best part about her story?  Her business was built out of COVID. She saw a window of opportunity and she went for it.  This year has been full of a lot of challenges and sadness for many individuals, families and businesses- and it's a welcome change to hear uplifting stories of people in our community who are making the best of a difficult year. I hope you enjoy learning more about Colleen, her family and the story behind her brand!
Where are you from originally and how long have you lived in town?
Raised in NH, moved to NYC when I was 18 to attend FIT. Moved to Westchester from Brooklyn when our son was 18 months old. We have lived in Westchester for 4 years.
How many children do you have and what are their ages?
JT (John Thomas) is 6 Years Old and Frankie (Frances) 3 Years Old
What are your favorite things to do with your kids?
Mainly exploring the sound shore area, however we love Skiing, bike riding, playing outside in our yard and going on adventures, far away or close to home. We love decorating for the Holidays, making fires and making s'mores.
Are you involved in a business venture, a local organization, a creative endeavor, or in the corporate world? Please share!
I'm the Owner/Founder of Play it Forward Clothing. I have been in the corporate world for the last 17 years designing women's apparel for various designers and companies from Catherine Malandrino Collection to Macys private label brands including Bar III to working with the Kardashians 10 Years ago designing their private label line.
How did you decide to settle in the Sound Shore?
We loved the idea of being close to the water and NYC. It's remarkable that you can be in Times Square with millions of people and then walking the Larchmont harbor in less than 30 minutes. We traveled to Australia on our honeymoon and we took the ferry from Sydney to Bondi Beach in minutes, which was magical.   NYC to the sound shore has the same feeling of escapism in a quick amount of time. Time is the greatest gift.
What do you love about living in the Sound Shore?
The easy access to the water and remarkable views originally drew us into the sound shore. There are so many great camps, clubs and golf courses to explore. We also loved the historical homes and unique towns/villages. The landscape and architecture feels like something out of a story book. Since we are not from around the NY area, we learned quickly that many people after college return to Westchester to raise their families. We knew right away there was something special about the Sound Shore community. And lastly one thing, I thought that I would never say 7 months ago, I sincerely miss the quick commute to Grand Central and catching up with new and old friends on the train.
How has this community been instrumental in getting you to where you are now?
Yes absolutely, my community has certainly Pay'd It Forward! My circle of close friends and neighbors have donated their designer and gently used pre-loved kids clothing as well as connecting me to the right people (especially Megan Sullivan & Kaitlin Strobel), offering me great advice as well as spreading the word to shop on our site. Children's sustainable clothing is a big idea everyone can get behind and support. Local friends and small businesses feel good about supporting a startup that has meaning and purpose and helping reduce their carbon footprint for future generations.
What are your go-to restaurants and shops in the Sound Shore?
Since we lived in Brooklyn for 15 years we love unique restaurants with great food or atmosphere. In Larchmont our go to's are Sherwood's, Larchmont Tavern, and Billy & Pete's because its next to memorial park which is great for the kids. Here you can order take-out and bring your blanket to the park.
We love the Wooden Spoon in New Rochelle, its owned by a local firefighter and we have used them for backyard BBQ catering events. The dads especially love Wooden Spoon because they bring their own BBQ pit and serve the food fresh off the grill. We also enjoy Pizzeria La Rosa, they have restored a 100-year-old pizzeria with a wood burning pizza oven back to its former glory. The food is delish and they used to have a fun live Jazz night once a month before the pandemic.
How do you spend "me time"?
The little me time, I get, I enjoy working out on the Peloton or going for walks with my mom friends. Most recently a friend of ours had a real adult Birthday party, all the parents took a Friday off and went hiking in cold springs. It was such a great day adventure and only a 30-minute drive. The hike was challenging, great views of West Point and of course great company. We finished the hike with a fantastic lunch at Cold Spring Depot and a cold adult beverage. Simple scenery and a sense of adventure made his Birthday special and unique for all the parents.
Tell us more about Play It Forward Clothing and how it got started.
For the last few years even before the Pandemic friends would drop of bags of beautiful high quality children's clothes for my kids to enjoy. I would go through the clothes and vet them by category, gender, season and personal aesthetic. Since I work in the Fashion industry, my mom friends knew I would appreciate the beautiful mini me Burberry Jean Jacket, the cute Stella McCartney and "Milly Mini" looks. Moms are emotionally attached to the memories they have with their kids in these outfits. They don't want to hand over bags of great clothes to Good Will when they have been worn once or twice or new with tags. I believe high quality children's clothing deserves to be accessible to everyone at a great price. As a fashion industry leader, I always found the garment and textile waste sinful. The fashion industry is the number one producer of Global waste. I always knew there was something unique about sustainable, circular fashion, and reducing our carbon foot print for future generations, hence PLAY IT FORWARD was born.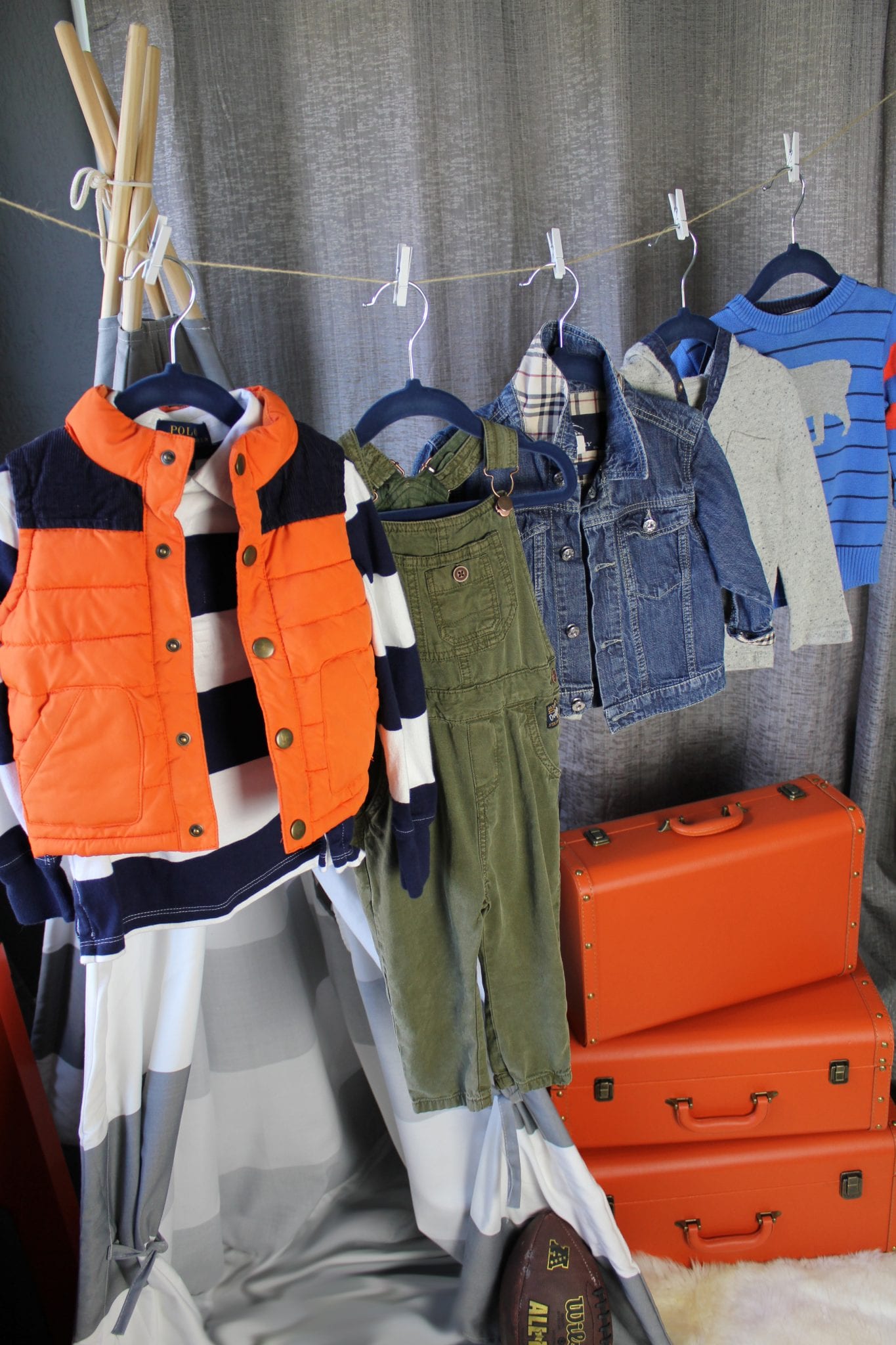 What's your favorite part of owning your own business?
Meeting new people, coming up with ideas and moving fast. When you are a startup you are doing it all, from photography, pricing, marketing and social media, I consider myself an octopus.   Unlike working at a corporate company you stay in your lane and work on your one job function, which can tend to get monotonous. Most importantly the best part of owning your own business is having the flexibility with my children, it's a dream to be able eat lunch with them or go for midday bike rides. I will never look back and think, my kids are adults now and I missed their entire childhood. Being present for my kids is priceless.
Has COVID-19 impacted your business?
Yes, in a positive way! Now was the time for me to launch Play it Forward Clothing because the fashion industry scaled back producing clothing 6 months ago which means shoppers will be looking other places for that one special holiday dress or size they cannot find. Children's clothing is timeless and moms will want unique exclusive pieces that cannot be found all over the market.
COVID has given me the gift of time to focus on a project that I feel passionate about and slowly changing the fashion industry, which is sustainability. Every year 23 Billion pounds of clothing and textile waste end up in our landfills. By shopping on our website https://playitforwardclothing.com/ you will be reducing your carbon footprint for future generations as well as giving back to your local community. For every purchase made on our site we donate a bundle of clothing to local charities. We buy sell and curate pre-loved clothing making it a unique shopping experience, selling two types of two types of products: rewind (pre-loved) and ready to play (new with tags). Our goal is to make shopping for both rewind and play products a unique experience shipping the clothing certified washed and pressed in beautiful packaging.
What's one thing people would be surprised to know about you…
Raised in New Hampshire and went sky diving at the age of 18 and did not tell my parents until after I was safely back on the ground. I was also the only girl on the boys Golf team in High School.
How do you juggle motherhood, parenting and your professional life? Any tips for keeping it all together?
Number one by having a great Husband or partner.   Surround yourself with positive, supportive people that believe in you. "No problems only solutions" is the motto I try to live by.
What's the best piece of advice you've gotten from another mom?
Go with your instinct when it comes to parenting and don't dig deep into "Dr. Google".
Anyone special you'd like to thank for helping you through parenthood?
Of course… my mom and dad and for my two sisters, for always keeping parenting humorous.
To learn more about Play It Forward and to shop the clothes go to https://playitforwardclothing.com/Give her a follow on Instagram @playitforwardclothing