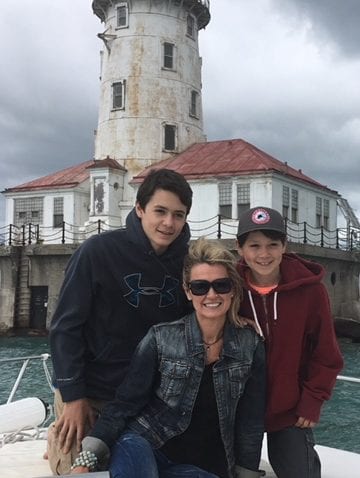 Moms, Meet Local Mom Christine Calzolano!  Mother of 2 boys, Jewelry Designer, Avid Supporter of the Kidney & Urology Foundation and American Red Cross MN Board Member.  Make sure you follow her on social media to stay up to date with her gem-inspired jewelry line and soon-to-be website!
Tell us a little bit about yourself ?
I am from Lafayette, Indiana and had a wonderful childhood. Life there is much slower paced and people are generally very kindhearted. My parents are from Germany so, as a child, I spent most summers there visiting family.  After graduating from Purdue University I was an account manager at General Motors for three years and then moved to Chicago where I sold computer network products for seven years.  I moved to NYC in 2000, had my two boys in the city and moved to Harrison in 2005.  My boys are now 13 & 15 and attend LMK and HHS.
One thing people would be surprised to know about you?
I know how to sew!  I personally custom tailor most of my clothing or if I see something I like then I will make it… i.e. I saw Dorinda from NYC Housewives wear a rhinestone skull blazer and made myself one! Since then I have made several for others with whatever rhinestone emblem they want!
Anyone special you'd like to thank for helping you through parenthood?
My mom!  She guided me the entire way.  I had a tough time getting through some health issues with my youngest son and she was always there to lift my spirits and give me faith and strength that he would be fine.  She was right!
Favorite things to do with your kids?
I love to watch old movies with my boys that I watched at their age and enjoy skiing with them as well…even though they can totally out ski me now!
Are you involved in a business venture, a local organization or a creative endeavor?
I have a jewelry business called Gems By Christine that I started about 9 years ago.  I design semi precious stone and beaded jewelry.  It has provided a creative outlet and also a means to give back to various charities over the years as I am a vendor at many charity events.  I enjoy collaborating and making custom pieces to fit someone's personality and taste.
My youngest son, Christian, was diagnosed at eight months old with a very rare form of kidney disease called Infantile Nephritic Syndrome.  His prognosis was not ideal and doctors told us there was a high probability he would need a kidney transplant by the  age of 10 if he didn't respond to drug treatment.  Thankfully, he beat the odds and has been in remission ever since!
Eight years ago, out of gratitude, I founded and chair the Kidney & Urology Foundation Fall Fashion Luncheon which takes place in each year in November.  It's a great way to give back to those less fortunate.  I have many vendors present that participate and donate a portion of sales to the foundation.  My jewelry collection is also sold and 100% of sales that day are donated.
I am also a board member for the American Red Cross Metro North Chapter.  It's an amazing organization that helps so many in need.  My grandfather's life was saved by the Red Cross during WW2 so I have a strong affinity with them.
How has this community been instrumental in getting you to where you are now?
I have developed quite the following and am thankful for all of the support, advice and referrals received over the years.  I'm now in the process of developing a website and teen line as well!
Any time saving tips when it comes to parenthood?
I'm always multi-tasking when I sit down for breakfast or lunch by myself. That's when I check my email and order my supplies for any project I'm working on. When I'm in a time pinch, which seems often, I try to do little workouts throughout the day.  I'll do squats as I take the laundry out of the dryer or push-ups against the the kitchen counter top as I am cooking breakfast or dinner.  I even work with anti-aging remedies as I'm making breakfast in the morning.  The boys get an omelette and I get a mini egg mask!  Did you know that a banana peel rubbed on the face is great for your skin as well?
I've also become an avid reader of health and wellness topics and natural remedies since I recovered myself from the onset of Lupus 10 years ago.  As far as daily meals, I usually cook enough for two days so I'm not constantly starting from scratch.
As for raising the boys, I try to incorporate daily topics in the news and utilize as teaching moments. I'm constantly encouraging them to be good and kind individuals and hoping through my actions they will be motivated with the same desire to help others in need.
Contact Christine via email, [email protected] or to browse her designer jewelry collection, follow insta-links here!