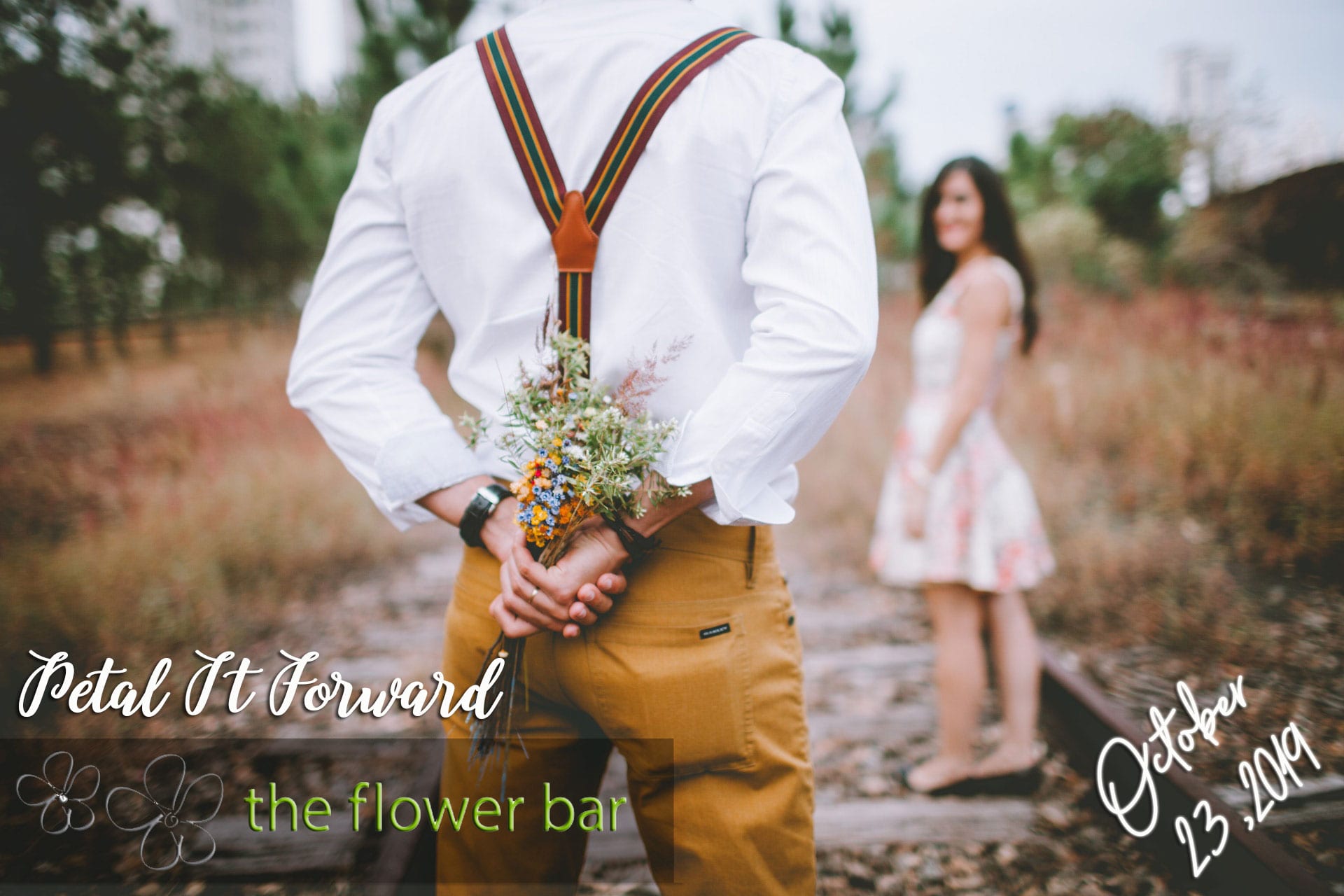 — Local Floral Business Spreads Smiles and Stress Relief, 
Two Bouquets at a Time in Westchester County —
(Larchmont, NY), (September 26, 2019) — On Wednesday, October 23rd, The Flower Bar, located in Larchmont, NY is joining dozens of floral industry businesses nationwide to surprise unsuspecting passersby in Larchmont, Rye and Scarsdale with two free flower bouquets each — one to keep and one to give to a friend, family member, colleague, or even a stranger. The random-acts-of-kindness effort — called Petal It Forward and organized by the Society of American Florists (SAF), of which The Flower Bar is a member — is designed to help people start their day with more smiles and less stress. The effort illustrates research from the University of North Florida (UNF) that shows living with flowers reduces stress. 
"Petal It Forward is the floral industry's way of giving back," said Jenny Scala, SAF's director of marketing and communications, citing the effort was purposefully planned on a Wednesday to help the mid-week slump. For many years, The Flower Bar has participated in this mood-boosting effort."  "We know from personal experience that one gets as much joy giving flowers as receiving a bouquet of flowers," said Nancy White, owner of The Flower Bar. "Through the positive effects of flowers, we hope to make someone's day brighter, and provide a much-needed moment of calm amidst the hectic pace of life," she added. 
On Wednesday, October 23rd, Nancy White, along with members of The Flower Bar team, will be located in Larchmont (between Chatsworth and East Avenues), Rye (between Purchase and Elm Streets) and Scarsdale (Christie Place between East Parkway and Chase Road) at 11:00 a.m., 12:00 p.m. and 1:00 p.m. respectively where they will be giving out petit bouquets to more than 30 residents.
The research findings on flowers and stress relief, and the need for mood-boosting gestures, seem timely: A survey by Wakefield Research in July showed that 68 percent of Americans experience stress weekly, and 32 percent report feeling stressed daily. Women are even more affected, with 25 percent reporting feeling stress multiple times a day. 
Ms. White says the original idea behind Petal It Forward's 'keep one, share one' concept, which started in 2015, came after looking at statistics showing while 80 percent of people reported receiving flowers makes them happy, even more (88 percent) said that giving flowers makes them happy. "We want to give people the chance to experience both," said Nancy White. "Everybody knows what it feels like to receive a beautiful bouquet of flowers, but we want everyone to experience the joy of giving that happiness to a friend, family member or stranger and seeing first-hand how it can truly brighten their day."
Ms White also asks that after residents receive their flowers, join The Flower Bar in this feel-good campaign by gifting your extra rose and sharing your happiness on social media using #petalitforward and #theflowerbar.
In addition to the research on stress, previous behavioral studies conducted by Rutgers and Harvard scientifically demonstrate the positive impact flowers have on emotional well-being. For information on the effects of flowers on stress research, visit aboutflowers.com/stressless. For research on all of the health benefits of flowers, visit aboutflowers.com/research.
The Flower Bar
What started as a humble floral shop more than 40 years ago has blossomed into one of Westchester County's premiere homes for distinctive floral art. Under the skilled hand and eye of Nancy White, The Flower Bar prides itself in delighting clients in Westchester and surrounding Rockland, Putnam and Fairfield Counties and New York City, across a range of needs, tastes and budgets.
Whether you're hosting a large, special occasion or sending a simple gesture of love, The Flower Bar is dedicated to achieving your satisfaction with grace and creativity. As the community's taste for fine flower arrangements evolved, so too has the modern esthetic we deliver with each stem we hand-select and each customer we are proud to serve.  To learn more please visit our website at www.the-flower-bar.com  or follow us on Facebook, Instagram, Twitter and Pinterest.  @theflowerbarny