Now that the weather seems to be getting a little cooler, it is Apple Picking Time!!! It's one of the fall activities we all look forward to and there are plenty of places in Connecticut and New York to go picking September – October! Many of them also have petting zoo's, eventually will have pumpkins and more. Check out our list of great locations for apple picking, below! Just be sure to call ahead, as the harvest schedule is always subject to change.
Where To Go Apple Picking
Barton Orchards
63 Apple Tree Ln, Poughquag, NY
(845) 227 -2306
petting zoo, fun park, corn maze and haunted house
Beardsley's Cider Mill & Orchard
278 Leavenworth Road, Route 110 in the White Hills section of Shelton, CT
(203) 926-1098
bakery
Bishop's Orchards
1355 Boston Post Rd, Guilford, CT
(203) 458-PICK – daily updates
market, farm and winery
Blue Jay Orchards
125 Plumtrees Rd, Bethel, CT
(203) 748-0119
market, wagon rides, pumpkin patch in late September
Fishkill Farms
9 Fishkill Farm Road, Hopewell JCT, NY 12533
845-897-4377
market, wagon rides, Fall Harvest Festivals every weekend 9/7-10/26 (live music, fresh donuts, hard cider garden), corn maze, pumpkin patch opens 9/21
Harvest Moon Farm & Orchard
130 Hardscrabble Road, North Salem, NY
weekend fall festival with hayrides, apple cannons, bouncy castles, bungee trampolines, live music, Hardscrabble Cider, pumpkin patch begins 9/7, beer, face painting, pony rides and food!
Lyman Orchards
32 Reeds Gap Rd, Middlefield, CT
(860) 295-3886 – 24-hour hotline
gold, apple barrel, market
March Farm
160 Munger Lane, Bethlehem, CT
(203) 266-7721 
market, bakery, playscape, animal yard, corn maze
Meadowbrook Farm Market
29 Old Myers Corners Road, Wappinger Falls, NY 
845-297-3002
market, pre-picked pumpkins, animal feeding, large orchard opens 9/21
Outhouse Orchards
139 Hardscrabble Road, North Salem, NY
(914) 277-3188
corn maze, hayrides
Rogers Orchards
2876 Meriden-Waterbury Tpke, Southington, CT
(203) 879-1206
336 Long Bottom Rd, Southington, CT
(860) 229-4240
bakery
Silverman's Farm
451 Sport Hill Rd, Easton, CT
(203) 261-3306
market, animal farm
Stuart's Fruit Farm
62 Granite Springs Road, Granite Springs NY, 10527
(914) 245-2784
farm stand, bakery, pre-picked pumpkins, hayrides on weekends
Wilkens Fruit & Fir Farm
1335 White Hill Rd, Yorktown Heights, NY
(914) 245-5111
corn maze, market, winery, pumpkin patch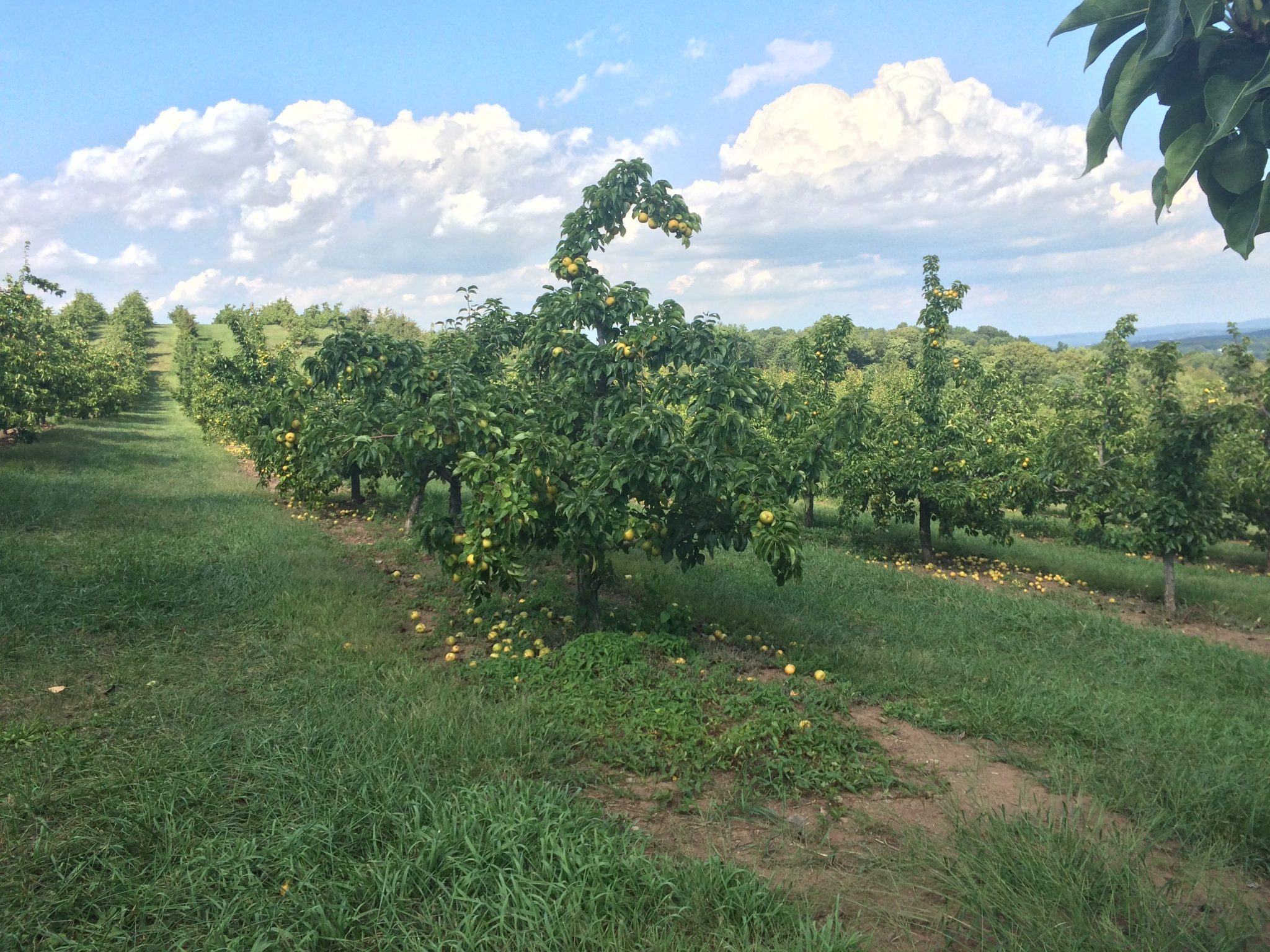 Know Before You Go
Call ahead to check on conditions and the types of apples available for picking.
Some Orchards do not accept credit cards so have some cash on hand.
Dress appropriately for the outdoors and for potentially changing weather conditions. Terrain in orchards is usually grassy and bumpy with hills to climb/come down.
If you want to bring your dog, check ahead of time. Some orchards do not allow pets.
Don't forget to bring your camera!
Definitely bring snacks… many of the orchards are a bit of a drive from the Sound Shore.
How To Pick The Best Apples
Apples ripen from the outside of the tree towards the center, so the apples on the outside of the tree will ripen first.
Once they're picked, apples stop ripening.
To pick apples directly from a tree, roll the apple upwards off the branch and give a little twist.
Don't throw apples into your basket or bag after picking. Handle them gently to prevent bruising and spoiling.
Don't wash apples until right before using them to keep from spoiling.
Keep apples cool after they're picked to increase their shelf life.